Cultural Center Korpus in Minsk
You need to find time not only for work, but also for fun. And if everything is clear with a banal cinema and a bar, then you already want to visit an interesting place. The cultural center "Korpus" can be called such a place. Today we will tell you what it offers and how to get to Korpus.
Why does it worth to visit a cultural Center "Korpus"?
"Corpus" is a cultural center aimed at creating conditions for interaction and development of contemporary art and culture, non-formal education and civic activism, creative industries.
At the base of "Corpus" is staffed by BOpromo concert agency team. The BOpromo is a team of rapid response people who are not indifferent to their work and culture in its broadest sense. They are truly capable of organizing and maintaining a tasteful event of any scale.
Events: contemporary art exhibitions, concerts, parties, festivals, educational and lecture programs, public discussions, film screenings, theater performances, cultural and social projects.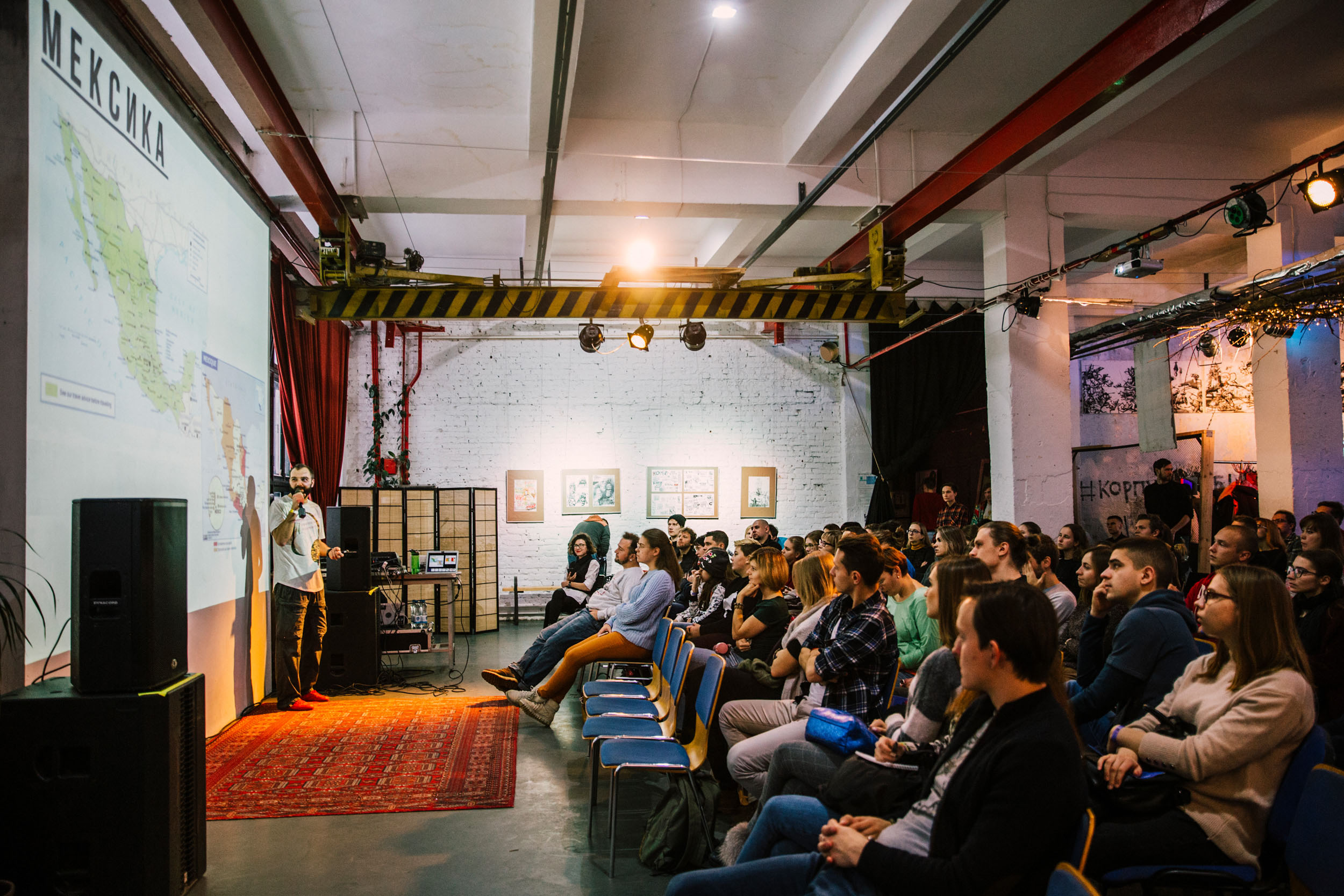 Cafes and bars
You don't need to leave the Korpus cultural center at all: you can have breakfast, lunch or dinner on the spot. The building represents the cafe-bar "2 toads", the menu of which will delight both lovers of traditional cuisine and vegetarians with its variety. The menu includes a smoked sandwich with honey-mustard dressing, green salad with Vinaigrette dressing and potato croquettes, cold cream soup with potato balls and quail eggs, quesadillas with vegetables and meat or mushrooms, potatoes with meat sauce. All these dishes can be cooked without meat (it will be even cheaper).
An amazing tradition has developed within the walls of the bar. On weekends, random people are put behind the counter. For example, a musician, actress, director, one of the most influential Belarusian women in the field of art Sveta Ben was already standing behind the bar. The girl poured coffee for the guests all evening and talked about the high.
If you are somewhere nearby, do not pass by and look for a coffee, a glass of cool lemonade, a glass of beer, cider or something stronger. If you have a desire to meet friends or colleagues, the Corps is open to the public.
Address: Prospect Masherova 9/8.
Working hours: 16.00-22.00.
Showrooms and shops
In addition to the Korpus, you can go to the KaliLaska charity store, showrooms of Belarusian brands Kardash, Apti Eziev, Killtoday and other cool designers.
For example, KaliLaska has adhered to a simple rule since its inception: everyone should be dressed and shod.
They are helping:
• people with disabilities and their families;
• people with long-term or serious illnesses due to which they cannot find work;
• parents with many children;
• orphans;
• retirees;
• students;
• mothers and single fathers, guardians;
• former prisoners;
• refugees;
• to fire victims;
• to any person who finds themselves in difficult life circumstances.
Parties
Every citizen of Minsk knows about parties at the Korpus cultural center. The Korpus is second to none in this area. Bopromo organizes the best parties and events.
Music bands are often invited to parties, which makes them even more interesting. The organizers always promise that it will be beautiful, musical and exciting!
Each event has its own surprises, so do not deny yourself the pleasure of attending at least one such party!
Performances
Performances at the Korpus cultural center are organized pretty regularly. Posters always publish upcoming events where everyone will find a place for themselves.
For example, on August 22, a documentary performance about bioethics with the title #nothingsaint starts.
The guys have collected for you in the framework of the forum Homo (im) perfectus documentary evidence, which in the form of a theatrical reading, and then a performance will allow you to speculate about how the future might look, taking into account the development of biotechnology, how unshakable the moral and ethical standards of mankind, or each " adjusts "them for himself.
The premiere of #nothingsaint is scheduled for fall 2020.
In the meantime, the Independent Theater Company HomoCosmos and the Forum about Man, Medicine and Technology Homo (Im) Perfectus invite you to an open reading of the play on August 22, 2020. at 17.00 in the Cultural Center "Korpus".
Closed events
The building is a platform that is glad to offer you its services (sound, technology, light, projector, screen, seats, tables and catering) for closed events. But the Building cannot be rented by the hour for any event. The Korpus team carefully selects events to guard the aesthetic and ethical principles.
To hold your event, you need to fill out the form on the website or contact the organizers by phone.
Musical performances
Often, the Korpus hosts musical events with the invitation of popular performers. The groups are quite original, but nevertheless, a lot of fans come to listen to them.
This fall, there will be such groups as Khadn Dadn, Est' Est' Est', Komsomolsk, etc.
Terrace and courtyard
"Korpus" is already a cult place and a point of attraction for Minsk bohemians. From the outside, "Korpus" looks very cool - after the next street art festival, the building turned into one huge mural. It is quite difficult not to notice it, since the building is painted with graffiti of various colors. And even if there are no events, it is still nice to sit with a laptop in the coworking space or dine at the Two Toads cafe.
How to get to the cultural center Korpus
Directions to Korpus in Central District with public transport.
The following transit lines have routes that pass near Corpus Culture Center:
• Bus: 24, 29, 91;
• Train: Minsk - Rudensk;
• Metro;
• Trolleybus: 29;
• Minibus: 1053.
• Or at 9/8 Masherov Avenue.
Social media and contact information
It will be much easier to follow posters and pick up good photos if you subscribe to groups on social networks.
The cultural center of the building is Vkontakte, Instagram, Facebook.
---
Photo: bo-promo.com, 34travel.me, minsk.page