Upon arrival in Belarus, you don't have to worry about finding suitable and affordable accommodation, as each city offers a wide range of accommodations, from rental apartments to accommodation in a luxury 5-star hotel. Hotels in Belarus are part of the national program to promote the country to international tourists, developing inbound tourism as a sphere of state policy aimed at economic growth and prosperity of the Belarusian nation.
Types of Hotels
Most hotels in Belarus meet international requirements and do their best to improve their service, entertainment, interiors and availability to get more stars for future guests without hesitation in the quality and comfort of their stay.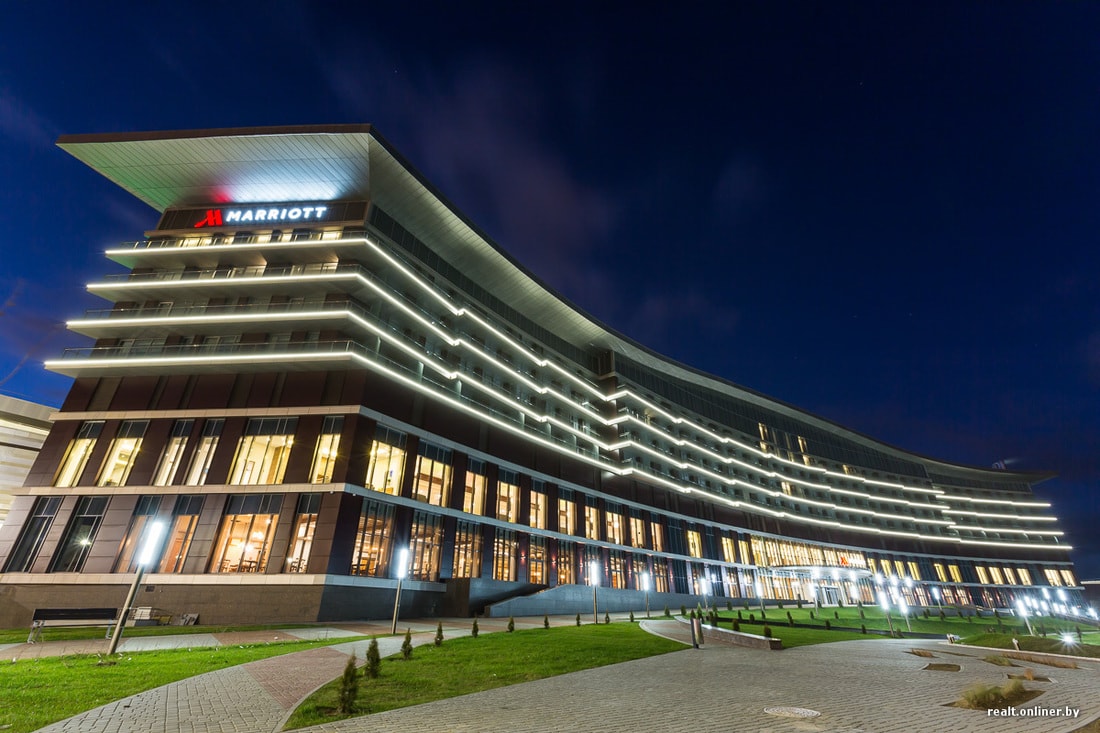 Inexpensive hotels
Hotels in Minsk are in demand, so the city considers it necessary to continue building new hotels, attracting international investors and hotel chains to enter the market.
List of inexpensive hotels:
East Time Hotel;

IT Time Hotel;

Hotel Zvezda;

Hotel 40 Let Pobedy;

Viva Hostel;

Mini-hotel La Menska;

EasyFlat;

Agat Hotel;

Myhostel.
All Inclusive
List of All Inclusive Hotels:
Hotel Minsk;

President Hotel;

DoubleTree by Hilton;

Victoria Olymp;

Hampton by Hilton Minsk City Centre;

Victoria Hotel.
For rest with children
If you and your family want to see the Belarusian beauty and admire the scenery, we suggest you to stay at the recreation centers. Prices there are lower than in hotels. And there are more entertainments.
List of recreation centers:
Three Bears recreation center;

the Olimpiets recreation center;

resort "Berezoviy dvor";

resort "Kvetki yablini".
Recreation base is a good excuse to have a rest from the city fuss.
Hotels with Water Park
There is Aqua-Minsk Hotel at the Belarusian water park "Lebyazhiy. It is located 150 meters from the water park, with an average score of 9.1 for guests. Free access to the gym and aqua zone at Lebyazhiy Water Park is provided. There is also a restaurant at the hotel.
All rooms are equipped with a TV with satellite channels. Some rooms have views of the lake or garden. All rooms also have a private bathroom with a bathtub or shower.
The reception is open 24 hours a day.
Bicycle rental is available. Cycling is available near the hotel. The national exhibition centre BelExpo is 5 km from the Aqua-Minsk hotel, and the Cathedral of the Descent of the Holy Spirit is 8 km away. The distance from Aqua-Minsk Hotel to Minsk International Airport is 39 km.
Central district is an excellent choice if you are interested in parks, food and walks.
The water park also holds festivals for children of different ages, which include:
contests;

quizzes;

active water games;

dancing;

animation programme;

sweet table.
On the territory of the water park "Lebyazhiy" operates a water thermal complex, which includes a Russian steam room, Finnish sauna, Turkish hamam, laconium, tepidarium, caldarium and salt room.
Hotels with pool
List of hotels with swimming pool:
Hotel Victoria;

Hotel Belarus;

Hotel Aqua-Minsk;

Hotel Metropol;

Hotel Europe;

Hotel President;

Semashko Hotel;

Hotel Beijing;

Minsk Marriott Hotel;

Minsk Renaissance Hotel;

Boutique Hotel Buta.
SPA-hotels
List of SPA hotels:
Hotel Aqua-Minsk;

Hotel Metropol;

Hotel Europe;

Hotel President;

Hotel Semashko;

Hotel Beijing;

Minsk Marriott Hotel;

Minsk Renaissance Hotel;

Boutique Hotel Buta;

Victoria & SPA Hotel.
Eco-hotels
Chalet Greenwood Recreational Complex is an 8 hectare landscaped area surrounded by coniferous forests, where tourists will enjoy the cleanest air and amazing views of the lakes. The complex includes a modern eco-hotel, an excellent restaurant, a sandy beach on the shore of Lake Beloe, a cozy lounge, a comfortable sauna complex and equipped conference room.
Suburban hotels in Belarus
The country complex "Shishki" is a stunning place on the shore of a forest lake surrounded by perennial pines. In any season, it is windless and cozy. The high level of service is due to the concept of "invisible service", and environmental friendliness is one of the main characteristics of the complex. Everything that surrounds tourists is made of environmentally friendly materials, and food is brought from farms. In addition, there are special diet menus for people with various types of diseases.
For those who love active rest there is a lot of entertainment: paintball, lasertags, sports, rope city, beach volleyball, hunting, fishing and much more. For accommodation - 12 bright spacious 2-bed rooms with a terrace or balcony and a 2-storey VIP-cottage with a fireplace room.
Hotels on lakes
Belarus is also called blue-eyed, and that's because there are a lot of rivers and lakes. Braslaw Lakes is a national park, which includes hundreds of picturesque lakes and pristine nature.
In 1995 on the unique natural territory of the Belarusian Poozerie Lake a National Park "Braslaw Lakes" was created.
The administrative center of the park is located in the ancient city of Braslav, which grew on the hilly isthmus between lakes Drivyaty and Novyato.
If you want to relax on the shore of the Braslaw Lakes, here is a list of the best hotels:
Braslaw Lakes Hostel;

Hotel Falvark;

Muragie;

Mini-hotel "Otdih v Braslave";

Agro estate "Gornaya";

Vaspan;

Apart-hotel "Zhemchuzhina";

Agro-usadba "Polskiy Dom";

Guest house "Ozerny".
Hotel Reservation in Belarus
All hotels in Belarus can be found at https://belhotel.by/. At Belhotel.by you can read brief information about the hotel, what services are included and book immediately. Besides hotels, you can find hotels, houses and hostels on the site.
How much hotels cost in Belarus?
Prices for hotels
The cost of hotels depends on the hotel itself, its category and number of stars. You can find out the price of the hotel you are interested in on its website or on www.belhotel.by.
Hotel price
The price of a hotel stay per night is much lower than in hotels. Prices for hotels in Belarus can be found on the website we mentioned above or here: www.booking.com.
List of Best Hotels in Minsk
We made you the top five hotels in Minsk.
DoubleTree by Hilton;

Minsk Marriott Hotel;

Minsk Renaissance Hotel;

Beijing Hotel Minsk;

Hampton by Hilton Hotel.
Various types of tourism, from medical to eco-tourism, contribute to the development of hotel business in the country, the rapid growth of which has been clearly seen over the past few years. Hotels in Belarus welcome guests all year round and do their best to enjoy their stay and return to a friendly, cordial and hospitable atmosphere.
---
Photo: i.travelapi.com, content.onliner.by