Shopping in Belarus is primarily associated with its capital. Most of the various shopping centers are located there. These include GUM and TSUM, known far beyond the borders of the country, "Capital", "On Nemiga", "Arena City", "Castle", "Galileo", "Gallery Minsk". You can pay for purchases here only in cash in national currency or by credit card. The absence of Belarusian rubles with you is not a problem. In any shopping center there is a place where you can exchange currency or ATMs. Shops and shopping centers start working from 8 or 9 in the morning and close at 22 or 23 in the evening. They don't have days off, but on Sunday their working hours can be reduced. Bargaining in stores will not work, since all prices are fixed.
What can be found in the "Shopping"
In this section you can find a large assortment of clothes and shoes in Belarus, as well as information about the most popular branded stores. In addition, the section will provide an overview of the largest shopping centers: TSUM and GUM. Moreover, in the section "Shopping" there is also up-to-date information on construction, furniture, flowers, cosmetic and wholesale stores. What about the prices for all this pleasure, you can find the average cost for different things in this section, and you will also find useful information about online shopping and delivery of goods from other regions.
Clothes and shoes in Belarus
In this section we will tell you where to find unique things from beginners and already popular Belarusian designers.
Showrooms of Belarusian designers
Belarusian designers are our everything. Indeed, thanks to them, we can boast Belarusian clothing brands. Examples are Kardash, Julia Babiy, Natasha Tsu Ran, LIMITEDMINSK, SAVVA and others.
You can get acquainted with Belarusian designer clothes with the help of Kardash. Everything created by the founder of the brand Olga Kardash invariably delights lovers of fashion. The brand's crown embroideries deserve special attention: storks on sweatshirts and dresses that have already become iconic. This is high-quality, ultra-modern and about Belarus.
Julia Babiy has an architectural education, and this is felt in each of her collections: clear lines, clear cut and complex colors. If you want to collect an intelligent and minimalistic female look, pay attention to classic woolen coats, blouses with an interesting cut and skirts made of silk velvet.
Multi-brand stores
Showroom on Rakovskaya – the creation of designers Anastasia Mironovich and Anastasia Larionova. Its owners offer fashionable women discounts and a funded system, and they can also fit clothes according to their shape.
Here are presented not only outfits under the brands AnastasiyaLaryonova and MIRANOVICH, but also several other Belarusian brands - Vanilla Naomi, Yulya Achinovich, Zibra, OGradiva jewelry, Lilia Shutova bags.
Kantsept Krama BFМ is the creation of the "Big Fashion Market" and gatheres under one roof clothes and accessories from metropolitan designers. The idea of its creation was that citizens could plunge headlong into the world of clothes from leading Belarusian designers.
If you decide to dress in the "Krama", you should know: her dressing room will open the brands Row71, Totallook, Miranovich, NAVY, POET.KA, Heartiness, HELMI, Ice Veronika, Pavlova, LSD clothing, Murmur.
Store BelOdejda is one of the first in Belarus to assemble Belarusian brands in one shop window. Every two weeks the collections are updated, so the owners promise that in our entire city you can find only 2-3 identical things.
You can buy clothes from LaVela, Faufilure, JeRusi, Kiara, Lea Lea, Colors of Papaya, Nickolia Morozov and other brands.
Mass-marketing
The Belarusian mass marketing includes the following brands:
H&M - a democratic Swedish fast-fashion brand - one of the industry leaders.
Topshop is the only democratic brand whose collections are on display at London Fashion Week.
Uniqlo - bright, affordable and high-quality basic clothing from Japan.
Zara is a democratic brand that adapts design ideas to life.
Mango is a popular Spanish brand of laconic women's clothing.
Monki - fashionable, without unnecessary identification marks clothing for those who are tired of Topshop and American Apparel.
Cles - showroom of designer Natalia Khaletskaya. The designer is very young - she is 21 years old. I finished design courses in France, bought Milanese fabrics and returned to Minsk. The clothes are mainly made from natural materials, colors and silhouettes are such that you can wear them at 18, and when you are three times more.
Luxury brands
American "luxury" clothing in the United States is much cheaper than in Belarus. Another striking example is accessories from Tiffany & Co or Ray Ban glasses: prices in Belarus and the USA differ by 1.5-2 times.
Boutiques of the most famous American designers, which are worth visiting in the United States at least for the benefit:
Michael Kors;
Ralph Lauren;
Alexander Wang;
Calvin Klein;
DKNY;
Marc Jacobs;
Thom Browne.
Jewelry stores
In Minsk you will find a large range of jewelry stores with a wide range of products. Most popular stores: Oro, «Golden», «Monomah», jewelry chain «7 carat», «Royal gold», ZIKO.
In each of these stores you will find a large range of gold and silver products of various samples, namely: rings, earrings, chains, pendants, necklaces and much more. Moreover, many stores often have discounts, as well as loyalty programs for regular customers.
The largest shopping centers in Minsk
The largest shopping centers in our capital are TSUM and GUM.
GUM is the first largest department store in our capital.
On November 5, 1951, the department store opened its doors to buyers, guests, residents of the city and the republic. GUM is a landmark of Belarus. Today, the department store building is a monument of architecture and urban planning of the twentieth century.
The trading area is 6700 sq.m.
GUM is goods for the whole family and for all occasions: for children and adults, for home and summer cottages, for sports and recreation.
In the trading floors of the department store there are more than 120,000 items of various goods.
At the disposal of customers in the department store are a dining room and a cafeteria, and a number of paid and free additional services.
On GUM website you can find up-to-date and detailed information on discounts on goods. In addition, here you can see floor plans, read information about the delivery of goods and much more.
The central department store of the city of Minsk started working on November 5, 1964. An important event in the life of the Central Department Store was the opening of the Stolichny complex in 2012. In the building on Independence Avenue, 52 there are supermarkets, a bistro restaurant, a bar and a cafe.
The supermarket offers a wide range of food products: from basic products to delicacies. The trading floor is equipped with modern commercial, technological and refrigeration equipment.
The highlight of the supermarket is a special rack with goods under the Stolichny brand. Candy "Evening Minsk", chocolate "Stolichniy", Soviet champagne "Minsk" and much more - all products are named after their hometown.
The bistro restaurant is a combination of classic sophistication and everyday comfort, a European menu and affordable prices. "Cafe" stands out for its rainbow and immediate atmosphere. The menu of the restaurant was selected by professionals, taking into account the taste preferences of young guests. The names of the dishes will not leave children indifferent. In the cafe you can try pancakes "Masha and the Bear", soup-soup "From Shrek", a milkshake with various fillings.
A pleasant surprise for the young visitors of the Central Department Store was the opening of the Children's World.
In 2016, the gym was reconstructed on the 5th floor of the department store. Now it is a retail space for the sale of seasonal goods - "Garden Center" and "New Year's Bazaar".
In 2017, the 4 floors of the department store were modernized, where the updated section "Everything for Women" was opened. The 4th floor has become a single trading floor.
In 2018, 2 floors of the department store were reconstructed, where the updated section "Everything for Men" was opened.
Other stores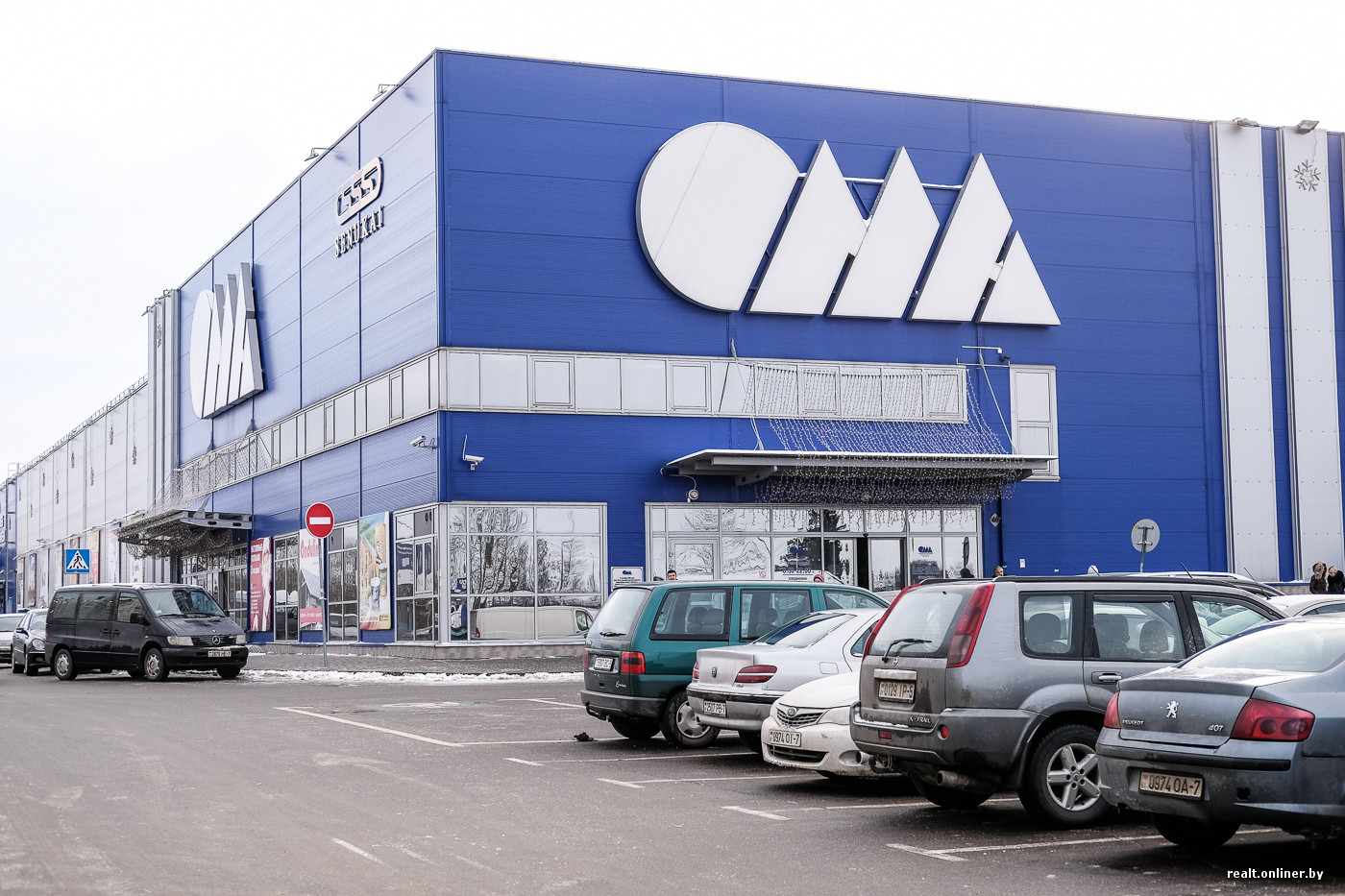 Hardware stores in Minsk
One of the most popular hardware store in Minsk is Mirom (world of decoration materials). On the store's website you will find a large catalog of various materials: drywall systems, inspection hatches, hardware, cribbing stuff, components, glass wallpaper, nets, ribbons and much more. On the site you can also find out about new products, sales, and discounts. In addition, actual prices are indicated for products.
One more is Stroybaza store . Here you will find everything for repair, garden and vegetable garden, as well as automotive products and accessories for the car. There is also a delivery section, where delivery conditions are described in detail.
ОМА is one of the most popular hardware store in Belarus. ОМА – everything for house. This store has a wide range of products: tools, a garden and a vegetable garden, building materials, construction machines, repairs and decor, plumbing, electrics and lights, and much more. The above sections are also divided into subsections. In this store you will find everything you desire.
Furniture stores in Minsk
One of the most popular furniture stores in Minsk is Mebel-delo. This is online- store. On the website you can find a lot of useful information: look at the product catalog, get acquainted with the furniture prices, order delivery and screwing of furniture together. In addition, you can see reviews from other customers.
One more popular store is Gorka Dom. Gorka Dom is a shopping center of the "Everything for Home" format. This means that in this store you will find everything for your interior and comfort.
Furniture store Lerom – is another metropolitan furniture boutique. In the store's catalog you will find living rooms, bedrooms, nurseries, hallways, wardrobes, beds, bedside tables and chests of drawers.
Aksamit – is another furniture store in Minsk that deserves your attention. In this store you will find a wide selection of furniture for every taste. The site of this store has its own "highlight" - the quantity of goods is indicated below after each item.
Flower stores in Minsk
RosesBel - popular store among people of Minsk. As the name implies, he specializes in roses. But the store sells not only roses, but also other flowers, for example, tulips. In the store you can make a wedding bouquet, a floral arrangement to your taste, a basket of roses and much more.
Store Daflor will help you gather a bouquet for any occasion. Also here you can buy fresh flowers in pots. The store is engaged in wholesale sales.
Flowers delivery FlowersMinsk.bel will please you with bouquets of flowers collected with love. The assortment contains various types of roses, daisies, carnations, irises, chrysanthemums. In addition, here you can find soft toys.
Cosmetic stores in Minsk
Here we start with the store Insight. Here you will find cosmetics for hair and body care. The cosmetics of this store have a natural composition and therefore can greatly help you in taking care of yourself.
MINA – brand of decorative cosmetics in an honest ratio of price and quality. This is an original and at the same time natural product that will appeal to absolutely any girl.
Whatever color or shade you are looking for, here an incredible world will open before you from a huge variety of offers where you will definitely find the product you need. Cosmetics for eyes, lips, face and nails, skin care products and accessories - all this will help you in creating the most incredible individual image!
Wholesale stores in Minsk
Many people prefer to be purchased in bulk. For this, in our country there are special wholesale stores. One of the biggest pluses is the benefit, since in such stores stocks are often arranged if you take several packs at once. One of the most popular in Minsk is a hyper discounter «Kopilka». Here you can buy products at a bargain price and in large quantities. In addition, there are other stores. For example, Damaver store. This store sells everything for the house. Wholesale storage store is another example of a wholesale store. It sells bedding.
Prices in Belarus
In our country, food prices are considered moderate and do not particularly differ in different stores. As for the prices of clothes and shoes, it all depends on the manufacturer from whom you buy. It is possible to buy quality items at reasonable prices. If you came to a boutique or a store of designer clothes or shoes, be prepared to spend more money than in a regular store.
Online-shopping in Belarus
Online shopping in Belarus is gaining more and more popularity. It has become much more convenient for people to sit down at a computer and, having looked at photos and comparing prices, choose a product for themselves. In addition, delivery services are available in most stores. As for clothing stores, with the new service of trying on at home, leaving the house is generally not required.
Delivery in Belarus
Most stores have a delivery service. Delivery of goods in Belarus takes from 3 to 6 days. That is why many people prefer to climb onto the site, choose and order. Your goods can also be delivered directly to your door.
Shopping in the regions of Belarus
Nowadays, ordering goods from another area is absolutely not a problem. Almost all stores that have a website on the Internet deliver goods to different regions of our country. To do this, you need to give the exact address, zip code and your data.
Follow us on Facebook, LinkedIn, Telegram!
---
Photo: content.onliner.by, avatars.mds.yandex.net