Airbnb in Belarus
In modern world, such a hobby as traveling to different countries is gaining more and more popularity. During the trips to other countries and cities, people usually stay in hotels or rent apartments or houses for a short time. Today, Airbnb service is gaining popularity in different countries; it did not deprive our country of attention. So, what kind of service is this and what are its advantages over traditional hotel stops?
Apartment rent in Belarus
In order to successfully rent housing in Belarus, it is worth using a special portal for housing rental. An example of such portals is Realt.by. These portals have the following advantages:
An impressive database of ads - among the many apartments available, you will surely find one that will suit you by price, location, condition and other parameters.

A set of convenient filters for selection - you can configure the delivery in such a way that only housing of a certain price category or only one district is displayed for you. Thanks to this, it becomes even easier to search for real estate.

Ads from individuals and agencies - you are free to choose the option that you prefer: renting property directly from the owner or with the involvement of an agency. The first will save you money, the second - your time and nerves.

Ease of posting ads - relevant for those who offer rental real estate in Minsk. You can add information about your apartment or room to Realt.by in just a couple of minutes, without having to fill out unnecessary or insignificant fields and graphs.
Trends in the real estate market in Minsk
Real estate for rent in Minsk has recently dropped significantly. The reason for this was several factors, each of which is already quite weighty in itself, but in combination with others it only strengthens its influence.
Changes in the Belarusian ruble exchange rate - in dollar terms, the rental price dipped by 30–40, and sometimes even by 50 percent or more. After all, people receive salaries in Belarusian rubles, and therefore, with an increase in rates, tenants began to massively ask owners of housing to decrease.
Reduced demand from tenants, especially students, who always made up a significant percentage of tenants in the capital. Instead of a one-room apartment, many began to rent a room or a bed, and some even returned to their native regions.
Active construction and commissioning of new homes - many of yesterday's tenants are moving to their own newly built housing. Consequently, the apartments previously occupied by them again entered the rental market, which now does not differ in high demand. Because the owners who do not want to lose money on a simple living space, had to lower the price.
Airbnb
What is Airbnb?
It is a community based on housing sharing.
Airbnb has existed since 2008, since two designers handed over sleeping places to three travelers. And today, millions of hosts and guests rent and book unique accommodations around the world using free Airbnb accounts. At the same time, the organizers of Impressions on Airbnb share their hobbies and interests with visitors and locals.
Airbnb makes renting a home easy and safe. The service confirms profiles and announcements, provides a messaging system for correspondence between guests and hosts, and also uses a reliable platform for processing payments.
How to choose an apartment
On the Airbnb website, enter the required city or region in the search field, select the dates (this is necessary so that only free options are shown to you) and the number of guests. At the bottom of the page, you can select the language and currency. Click "Start Search".
Airbnb will immediately show you many, many options for rooms, apartments and houses. All of them can be sorted using the filters. We choose what interests you: the entire housing, a separate or shared room. Set the price range. If this is not enough, there are additional filters: amenities, type of housing, host language, etc.
Note that on the left side of the screen only housing options that are located on the map on the right are displayed, which means that if you select a very small section of the map, there will be fewer options, but using the map it is convenient to search for housing in a specific area.
Choose your favorite option and go to its page.
Apartment for rent with children, apartment for smokers, rental apartment with pets
Regarding the following points, it is worth contacting the owners and discussing them.
Yes, you can take children on a trip, but some owners indicate that their housing may be unsafe or unsuitable for children or infants.
Infants (children under 2 years of age) do not increase the number of guests when booking, so there is no extra charge for their stay.
Look for ads labeled "Suitable for children / families"
If the owner adds the item Suitable for children / families in the "Facilities" section, this means that families with infants and children will be happy in his house. When creating a booking request, you still need to specify the exact number of guests (including newborns and minor children).
Booking Apartments Airbnb
When you have already chosen a convenient option, you should carefully look at the photos, read the description of the accommodation and the requirements of the owner, what amenities are provided. It's worth reading the reviews, they can be very useful. If you are not renting an entire apartment / house, but a room, then consider the presence of children and animals from the owner.
Once you understand that you are completely happy with everything, then it's time to contact the owner through the Airbnb website. Sometimes you may come across an apartment with an instant booking confirmation (Instant host), you also can book it without contacting the owner. But we have not yet had to use this service. Usually you need to select "Contact host". It is worth describing who you are when you arrive and what you want / don't want from the host. Why is this necessary? Airbnb is not a hotel and in many cases the owner provides you with a room / apartment in which he lives and naturally he wants to know who he is letting in and what to expect.
I want to say that all messages sent through the airbnb website are duplicated in the form of SMS to your confirmed phone number - which is very convenient, since you almost instantly know that you were answered. They usually respond within a day. Therefore, if time is not enough it is worth contacting several owners.
Payment for an apartment
Usually, if you are satisfied with the owner, he immediately puts the status of "Preapproved." In this case, feel free to pay for your reservation. Payment is made by credit card. There will be no cash and personal communication with the owner about the payment (unless you want to stay for a while longer after the lease term, then you can arrange it personally).
Money is credited to the owner's card only a day after you check in. During this time, you can refuse if you do not like something. However, it should be borne in mind that the rules for canceling reservations and refunds are different (this is all spelled out in the conditions on the housing page). Also, no one will refund you for airbnb services, even if you refuse in advance.
Do not forget that Airbnb charges a fee for its services (about 11% of the reservation amount). Before payment, you will be shown the final amount, taking into account the fee. Some owners add some amount at their discretion for cleaning the apartment after your departure, you will see this figure in the apartment description (when the price is displayed during the search, it already includes all one-time additional fees divided by the number of days). Once the payment has passed, the status of "Pre-approved" will change to "Confirmed" and confirmation will be sent to the email. It will contain the following information: how to get to the accommodation, map, reservation code, contact details of the owner, amount paid.
Gift Coupons Airbnb
The Airbnb coupon is a special link that gives you the opportunity to get a discount on rental housing on your first booking. Anyone can get a discount of up to $ 34 when they rent a house for the first time. The amount of the bonus depends on the exchange rate, country and many other factors.
In order for Airbnb to activate this coupon, you need to rent a home of at least $ 72 at the first booking (the coupon is activated automatically).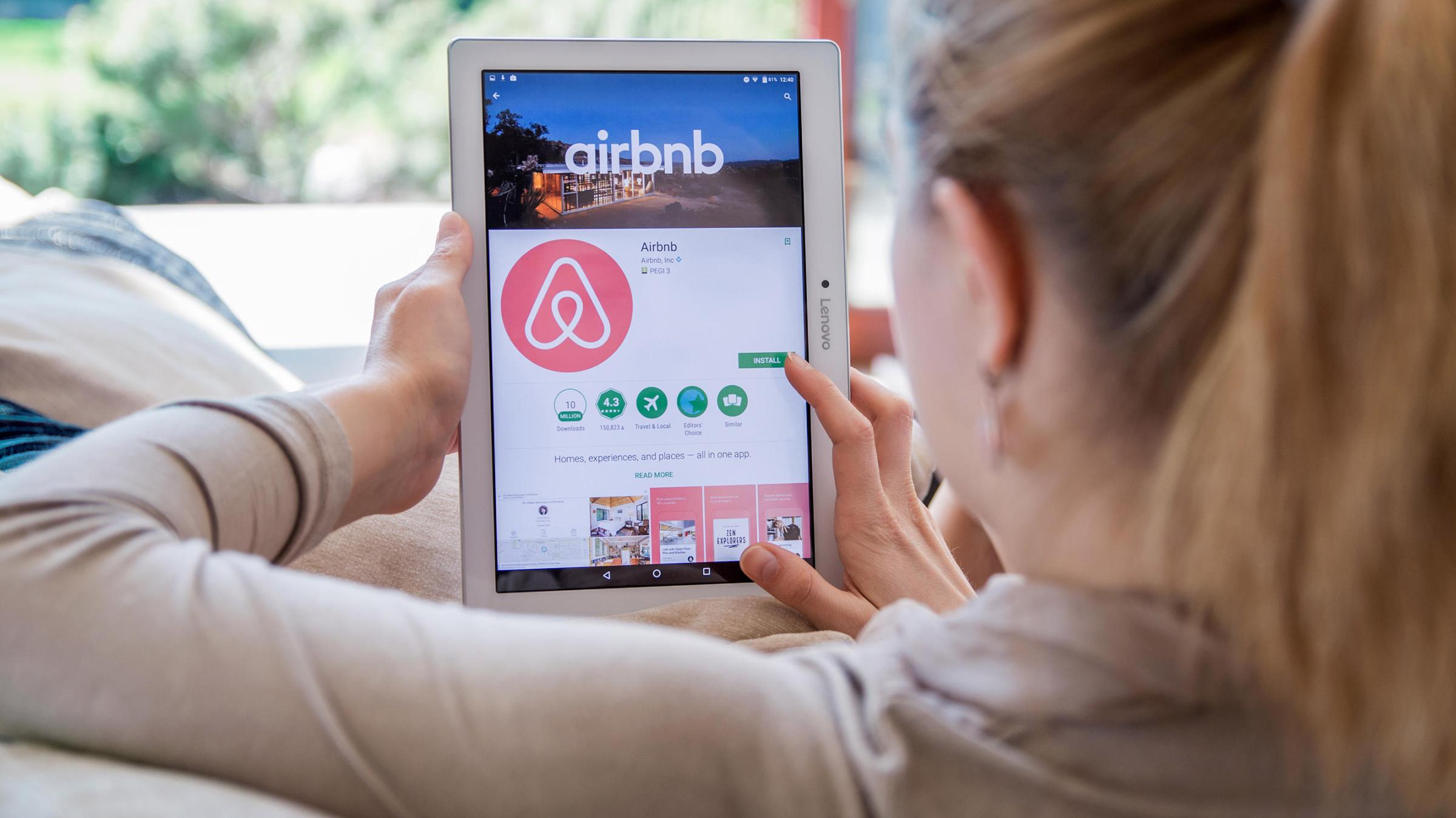 Pros and Cons of Airbnb Housing
Airbnb pros:
the opportunity to find housing is much cheaper than hotels and hostels

for the price of the hostel you can get to use the whole apartment or at least a separate room

financial guarantees from airbnb

good descriptions of housing and terrain

the opportunity to live like a real local

reviews of other guests (although you can read reviews at the hotel)

detailed answers to all your questions from the landlord

the possibility of renting a full apartment / house, which is especially true when traveling with children / animals

instant acquaintance with local residents, and mutual consent and joint pastime

you can haggle: the longer the lease is, the more likely it is to get a good discount (the owners almost always meet them).

everything is included in the price: electricity, Internet, etc., no additional VAT and other city taxes (unless, collecting the site, but this is a fee for an excellent choice of housing options).

there are no restrictions on the rental period (if this is not agreed in advance), that is, you can rent a house for a month, and for six months, and for a year.

You can arrange with the owners to be picked up from the airport / bus station and taken back.
Airbnb cons:
the owner may not like it, but if you rent an apartment or a house, then you will see the owner exactly two times, or maybe not a single one

something may not work (although this happens in hotels).

no one will change the linen, or maybe it will not be at all. But all this is discussed with the owner

cleaning is usually not provided and even if you see an additional cleaning fee, it is only cleaning after you

there is a chance of noisy neighbors or noisy children from the owners, but in the hotel you can run into a noisy company of night owls

on-site housing may seem worse than in the photo, but it may be better - as with a hotel

if you didn't like something on the spot, then of course you can just leave, but it's not a fact that you can return the money, because often on the day of arrival this is already impossible (the same option happens with prepaid hotels)

some owners take a deposit for the safety of property (usually with a long-term placement).

airbnb charges a mediation fee.
Reception at Airbnb
In order to learn how to publish an ad and become a landlord, set the price of housing, housing requirements, how to insure housing, and also what insurance to choose for housing follow the link.
Airbnb app
The Airbnb service also has its own application, which is available for both the android system and ios system. In order to download, you need to go on the phone to Google Play or the App Store, respectively, and enter the name of the service in the search field. The application displays all the necessary information for ordering housing.
Follow us on Facebook, LinkedIn, Telegram!
---
Photo: lukasjirsa.cz, avatars.mds.yandex.net, zondnews.ru.