Overview of new residential districts in Minsk in order to get an apartment
In this article we will talk about the capital of our country - the majestic city of Minsk. Our capital has a lot of attractions. It all depends on what purpose you are visiting this city. If you come here as a tourist, you will certainly be interested in magnificent parks and gardens, museums and galleries, exhibitions and architectural monuments of the city. If you are moving to the capital to live or, conversely, have been living in Minsk for a long time, but still do not have your own housing, then this article will be useful for you.
Residential districts in Minsk
The list of residential districts of Minsk:
Angarskaya, Brilevichi, Grand forest, Vesnyanka, East, Grushevka, Dombrovka, Drazhnya, Friendship, West, Green meadow, Kamennaya Gorka, Red Door, Kuntsevschina, Kurasovschina, Loschitsa, Malinovka, Masukovschina, Medvezhino, Mihalovo, Novinki, Petrovschina, Rakovskoye highway, Rzhavets, Nothern, Nothern village, Serebryanka, Slepyanka, Hawk, Pine-trees, Stepyanka, Suharevo, Tivali, Uruchje, Shabany, Harkovskaya, Chizhovka, South-West.
In addition, in 2011-2012 was began the construction of the new metropolitan residential district Degtyarevka (area - more than 1,500 hectares, 8 micro-districts) outside the Minsk Ring Road.
New Borovaya
New Borovaya is a modern residential area with a unified infrastructure, layout and its own atmosphere. The district is located on a plot of over 100 hectares, next to the main avenue of Minsk. The project won the award "Home Awards: Best for life in the field of repair, construction, architecture and design in Belarus" in the nomination "Best residential area".
New Borovaya is a place where ideas and technologies create a comfortable environment for living, working and studying. The construction is carried out according to the unusual for Belarus concept of SMART + SOCIAL, which involves the creation of the most developed social infrastructure. Along with housing, infrastructure is also developing: two kindergartens, a modern school, a sports complex with swimming pools, and a shopping center have already been built. Small shops operate on the ground floors of houses. Particular attention and all conditions are created for pets of the district.
You can read more about the district here.
Mayak Minsk
The Mayak Minsk is a residential complex, which many residents of the capital call the city in the city. Of the advantages of this residential complex, favorable ecology can be noted, since there is a forest park zone nearby. In addition, the complex has a convenient location; it is located next to the National Library and the "East" metro station. Developed infrastructure also paints this area. Shopping centers, kindergartens and kindergartens are within easy reach.
You can read more about the complex here.
Minsk World
Minsk World is a completely new project from Dana Holdings Company of a new international financial, business, entertainment and residential complex in the immediate vicinity of the center of the capital. Minsk World is an exhibition center representing a futuristic project with unique architecture. The international financial center will become the heart of the project and the main economic factor of Minsk World. In the center of the development of the complex is a picturesque setting of new sights of the city - an amusement park, amphitheater and sports center.
You can read more about the residential area here.
Green Harbor
Apartment complex "Green Harbor" is located only 3.5 kilometers from Minsk near the nature reserve. This means that clean air, magnificent old forests, amazing landscapes and endless green spaces will be your companions. The residential complex organically combines prestige and sophisticated simplicity, environmental friendliness and modern technology, comfort, tranquility of country life and developed infrastructure.
Scandinavian-style architecture blends perfectly with the natural landscape - you can comfortably ride along bike paths, visit relaxation areas, go shopping, go to the fitness center and beauty salon. And with all this, you will remain in nature, and at any moment have the opportunity to have a picnic in the fresh air in your own yard, take a walk in the forest and breathe fresh air with your full chest.
You can read more about the complex here.
"Chelyuskintsev Park"
The residential complex "Park Chelyuskintsev" is located at the intersection of Independence Avenue and Makayonka Street. Just a few minutes' walk are two metro stations: Moskovskaya and Park Chelyuskintsev.
In the immediate vicinity of the complex are famous city attractions - the Chelyuskintsev Culture and Leisure Park and the Central Botanical Garden.
An exclusive design has been developed for the entrances of the Park Chelyuskintsev residential complex; the entrances will be equipped with a modern intercom system and elevators that are characterized by a high level of comfort.
Reed more details here.
Multicomplex "Porcelain"
The complex includes three residential buildings, 4 underground parking lots, three business centers, a SPA center with a swimming pool and a beauty salon, a kindergarten with 70 seats with a swimming pool, a grocery store, a cafe with a summer terrace, a gym, a food court, a lobby bar, a bowling alley, billiard room, pharmacy and flower stalls, the boulevard, a sports ground with year-round simulators, playgrounds for different ages. The entire territory of the complex is pedestrian. In walking distance - embankments of the Svisloch River, Victory Park, Komsomolskoye Lake with a beach, Dynamo Sports Complex, shops, theaters, the Palace of Children and Youth, Komarovsky Market and other attributes of the capital's center, as well as two metro stations of the third line. Nearby is a bike path, conveniently connecting all areas and parks of Minsk.
You can read more about the multifunctional complex here.
"GrandHouse"
Grand House is a new project of comfortable housing in Minsk for a reasonable price. Metro 50 meters from the house, own underground and guest parking, quiet green area, developed infrastructure. The house is being built according to a modern design. The apartments are built on the principle of "free planning" and are rented to the buyer with a rough finish. The apartments have loggias with French REHAU windows, a modern adjustable heating system. The houses are equipped with silent and reliable passenger elevators from the OTIS Company. Lifts descend directly into the underground parking. On the first and second floors will be located retail and administrative premises with autonomous entrance groups. Residential apartments are located starting from the 3rd floor.
See more details here.
"Grushevsky Posad"
"Grushevsky Posad" - this residential complex, being built today in one of the most promising areas of Minsk on Dzerzhinsky Avenue near the metro station "Grushevka", quite popular among potential home buyers of high consumer qualities.
All apartments are of superior comfort. Spacious corridors and halls. Silent elevators, high-quality double-glazed windows with micro-ventilation, a coefficient of thermal conductivity of 1 and additional sound insulation from Dzerzhinsky Avenue will make the housing especially attractive.
For more information follow the link.
MOD House
"MOD house" is a premium residential building in the centre of the capital.
Unique architecture, panoramic windows, gorgeous bird's-eye views of the city, closed secure territory, author's entrance groups, underground parking - all this makes the "MOD house" an ideal place to live in the heart of a vibrant metropolis.
See more details here.
RC "Megapolis"
The residential complex "Megapolis" is a modern, grandiose in scale development in the micro district Brilevichi. The facility is located on Dzerzhinsky Avenue within walking distance from the Malinovka metro station.
All apartments in the complex have comfortable areas, free layout, high ceilings (2.7 meters) and high rates of noise and heat insulation.
The complex will include: playgrounds, landscaped areas for recreation, as well as underground (for 105 cars) and guest (for 522 cars) parking.
See more details here.
Buying an apartment in Belarus
Buying an apartment is always not an easy task. People who buy their apartment immediately understand this. After all, you can't just come, see, give money to your hands and say goodbye. There are many nuances that should not be missed.
There is a huge selection of apartments for every taste in our country. When buying a home, people are divided into at least two groups: those who control the process themselves and those who turn to a real estate agency.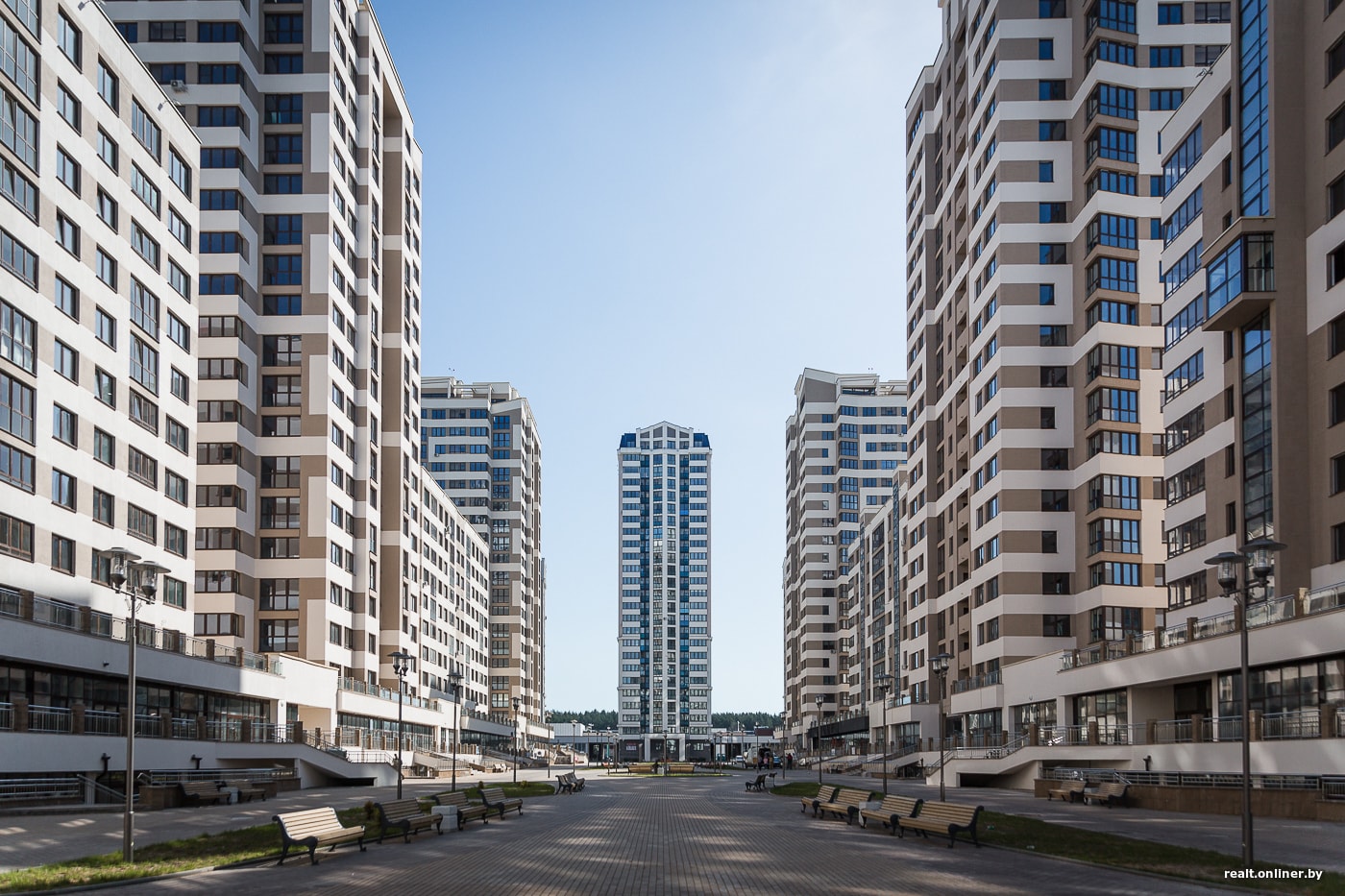 Apartment cost in Minsk
Housing prices in the capital vary depending on housing conditions, number of rooms, footage and area.
If you want to buy an apartment in Minsk inexpensively, then first of all pay attention to factors that affect the cost of housing:
location;
proximity of infrastructure facilities;
proximity of transport objects;
type of building;
planning decisions of the apartment.
The most expensive is considered housing in elite areas. Also, thanks to the convenient layout, good demand for housing in Stalin's houses has long been maintained, but buildings with major repairs should be chosen. Demand is also for new buildings of the "Business" and "Comfort" class, erected near ponds or parks. The cost of such apartments exceeds the average market price.
The average cost of 1 sq.m. in the capital's new building is in the range of 900-1500 US dollars, and in the secondary market - 1300 US dollars.
Real estate agencies in Minsk
In the capital of our homeland, there are many real estate agencies that offer customers their services.
List of the most popular companies in the city of Minsk:
1) Your capital
2) Avangard real estate
3) Prestige Real Estate Centre
4) Sylvan
5) Square meter
---
Photo: content.onliner.by, teleskop-by.org