Student dormitories in Minsk
Right now, in the last summer month, the issue of finding dormitories to applicants who entered higher educational institutions in 2020 is relevant. If you are one of the 2020 applicants who is in need of a dormitory, this material will definitely a little gift for you. After all, an independent search for accomodation for nonresident students cannot be called an easy task for a number of reasons, including: insufficient amount of money, a long distance to the educational institution, difficulty in navigating in an unfamiliar city and many others. In our article, we will guide you which universities in Minsk provide their students with a dormitory, how much does it cost to stay per month and are there any advantages in checking in.
Student dormitories of BSU
The Belarusian State University has 9 student dormitories, which are located on the campus of the Belarusian State University and where children live from all over Belarus and abroad. The BSU campus is home to thousands of nonresident students. To make students feel at home, the dormitories are equipped with self-study rooms, recreation rooms, gyms and sports halls, canteens, and laundry services. In addition, there are clubs of interest which will help to spend your leisure time - these are several dance studios, a sports and tourist club, a creative laboratory, a club of intellectual games and various sports sections. And also, besides this, you can take part in many interesting events, among them: culinary competition, KVN Cup, student song competition "Silver Strings", show competition "Star Couple" and many others. The campus also has the website, where more information about dormitories of the campus, photos and videos of students can be found.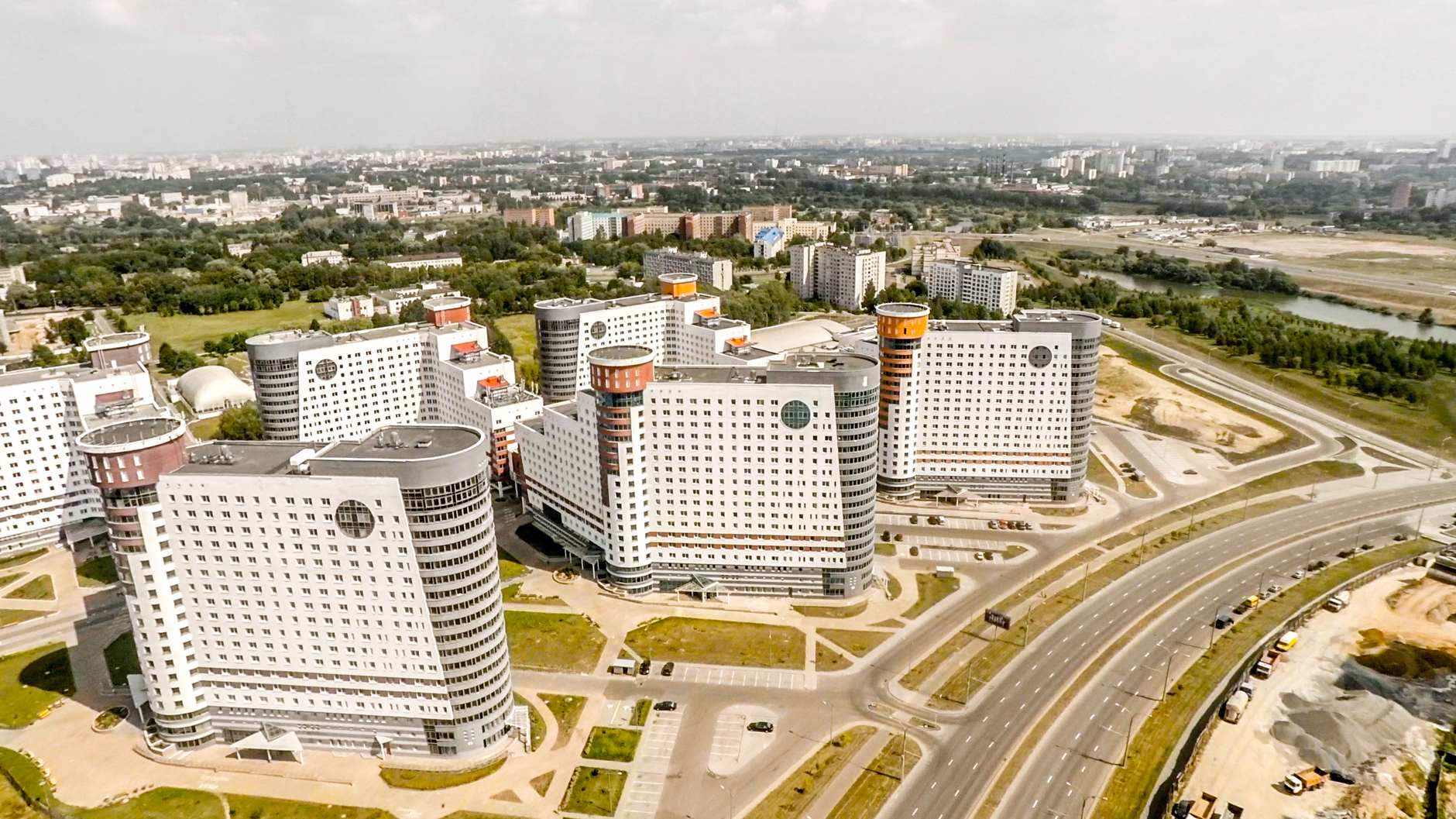 Student dormitories of BNTU
The campus of BNTU has 16 dormitories. The campus of BNTU is a structural subdivision of the Belarusian National Technical University, which operates in accordance with the current legislation of the Republic of Belarus, the Charter of BNTU. The administration of the BNTU campus is located at the following address: Republic of Belarus, Minsk, Surganova street 37, building 5 (dormitory number 9). The campus is headed by the head, who is appointed by the rector of BNTU. The purpose and task of the campus is to fulfill housing, social, cultural and educational functions. Among the dormitories of BNTU there are dormitories intended for BNTU employees and their families, for students, as well as for foreign students, in addition, for correspondence students and married couples (students). Dormitories can be multi-apartment residential buildings, corridor-type dormitories. In addition, there are corridor-type dormitories for individual faculties, as well as block-type dormitories. The addresses of dormitories you can find here.
Student dormitories of BSUIR
The BSUIR campus has four comfortable dormitories for more than 3300 places. Three of them (№1, №2 and №3) are located near the university. In BSUIR dormitories, students live for 2, 3 and 4 people in a room. There are also canteens in the dormitories, where you can eat tasty and inexpensively. All dormitories have washing machines. A nice bonus is that there are gyms and tennis rooms everywhere. The amount of payment depends on the size of the base amount and differs by dormitory. Accommodation in dormitories №1 and №2 will cost 0.8 base units, in dormitories №3 and 4 - 1.2 base units per month. For state-funded students, this amount is deducted from the scholarship for their written applications. Students who study on a paid basis and students who have lost the right to receive a scholarship, by the 25th day of each month, make payment through ERIP at any bank, self-service kiosk, ATM or via Internet banking using their student ID number.
But, there is also free accommodation for students who belong to one of the following categories:
- orphans and children left without parental care, as well as persons from among orphans and children left without parental care;
- disabled children under the age of eighteen years, disabled people of I or II groups, except for persons whose disability has occurred as a result of illegal actions, due to alcohol, drug, toxic intoxication, self-harm;
- people suffering from oncological diseases or patients with tuberculosis;
More information about BSUIR dormitories can be found on the campus website.
Student dormitories of BSMU
In total, there are 8 dormitories in the BSMU campus, located in three districts of Minsk. The functioning of the dormitories is ensured by the joint efforts of the university administration, the administration of the campus, the administration and student councils of the dormitories. The procedure of housing in campus, including those of superior comfort, is maximally developed and socially oriented. All dormitories have associations of both sports and creative interests. Dormitories of the university always show high results of work, occupying worthy places, both in regional and city competitions. Among the dormitories of the university, you will find corridor-type dormitories, in which rooms are designed for 4-5 people and there is a kitchen on each floor (dormitories №1,3,4). There are also sectional dormitories in the campus, where each section has rooms for 2 and 3 people, a kitchen, showers and toilets. Premises for cultural and domestic purposes: an assembly hall, a buffet, a laundry room, self-study rooms, gyms and a creative workshop (dormitory №2). In addition to the two listed types, there are also block-type dormitories, where each block has rooms for 2 people, a shower room and a bathroom. There are 4 kitchens on each floor. Premises for cultural and domestic purposes: a canteen, a laundry room, self-study rooms, gyms, a left-luggage office (dormitories №5,6,7,10). Photos and contact information you can find on the campus website.
Student dormitories of MSLU
The Minsk State Linguistic University has only 4 dormitories. Dormitory №1 is a dormitory of the highest category, it has 204 apartment blocks. There are 1032 places in the dormitory in total. Moreover, the dormitory has 4 triple blocks for people with disabilities. Each block has two living rooms for 2 and 4 people, a kitchen equipped with kitchen furniture, an electric stove and a spacious refrigerator with a freezer compartment, a separate bathroom and a shower room. Also for students, as well as nonresident workers, the hotel "Zhelon" provides its services, which offers special prices for accommodation. The cost of staying one person is from 7.00 Belarusian rubles per day for a long stay for an academic year. The hotel offers accommodation in 2, 3-bed rooms. For long stays, there is a kitchen on the floor. The hotel has a cafe and hairdresser's.
More information about MSLU you can read here.
The cost of a student dormitory in Minsk
Student dormitories are divided into three types, depending on the quality of the renovation and the availability of infrastructure: the first, the second and the third. And in each of them the monthly fee is different. Thus, in the most well-equipped state dormitories, it is necessary to pay 1.2 basic units once a month, which is equivalent to 30,6 BYN. If the living conditions are a bit simpler, then the fee can be 10,20 (0.4 base) and 20,4 (0.8 base). Private universities set their own rental value, which you can check directly with the administration.
Conditions in student dormitories in Minsk
Conditions in student dormitories in Minsk, of course, depend on the university you are going to enroll in. But, as a rule, there are better and worse conditions on the campuses of universities, respectively, the rooms in these dormitories differ in price. Already by this criterion, one can judge the improvement of the dormitory.
How to get a place in a student dormitory in Minsk?
In order to get a place in the student dormitory of your university, immediately after enrollment, you need to contact the rector of the university with a request to provide you with a dormitory, and also write a statement that you need to provide a dormitory.
Student dormitories for foreigners
Faculties often have separate dormitories for foreign students, usually with a block system. Dormitory fees for foreign students are much higher than for Belarusian students. International students are also allowed to rent rental housing. Typically, it costs between $300 and $500 per month.
---
Photo: abiturient.utmn.ru, adukar.by, hb.bizmrg.com