You have an anniversary or a wedding, or maybe you received an assignment from your boss to hold the most unforgettable corporate event in the history of the company. And then the question arises: how to spend weekends and holidays, what to do with friends and relatives on holidays and important dates, anniversaries, how to surprise loved ones, and at the same time enjoy the time spent together? Fortunately, in modern Belarus there are a lot of options for every taste. This article provides a detailed story about the most popular outdoor pastime in the countryside.
Rent of cottages in Belarus
Who exactly is such a vacation for? Of course, for a family vacation with children and pets, a corporate trip to nature, in the company of good friends. If you and your company want to spend time outdoors, but with maximum comfort, then renting a cottage is exactly what you need.
Generally. in Belarus, depending on the location and additional conditions, the rental price per day ranges from 150 rubles to 1000 rubles. The price is influenced by the following circumstances: is there a wireless connection (WI-FI), the presence of dishes and household appliances in the kitchen (microwave, refrigerator, kettle), is there a shower and a bathroom, as well as the level of comfort of upholstered furniture, the number of bedrooms places.
It is also important to have additional conditions for recreation, such as barbecue areas, spa, swimming pool, the opportunity to spend a variety of leisure activities for cooking barbecue, firewood and coal, bath or sauna. Also, the cost is influenced by the availability of outdoor entertainment: catamarans, boats, fishing, cycling, horse riding and much more. For long-term rental of cottages, as a rule, there is a flexible system of discounts. It is easy to rent a cottage using such portals as holiday.by, flatby.by, gohome.by, kottedzhi.by.
Organization of events outside the city
Off-site events require careful preparation. In order for the guests of the event to get a positive charge of emotions, enjoy the beauty and decoration of the countryside, the organizers must take into account all the smallest details, even the weather conditions. Just ordering a site and booking hotel rooms is not enough. The off-site scenario should include carefully thought out logistics for everything that has been planned. The cost of organizing an offsite event is formed from the following factors: format and scale, number of people, season and date, location of the venue. Places outside the city, where you can arrange a sports day, an active holiday in nature, is carefully selected by the agencies for the celebration. The most famous of them are the «Festivalny» country club, the «Expedition» picnic-hotel, «Shishki» country complex.
SPA in the countryside
Country complex «Syabry», located in the agricultural town of Semkovo, Minsk region. Here you can find a full range of services for relaxation: a pool and a Jacuzzi, an outdoor pool with sun loungers, a summer terrace with a Jacuzzi, a Finnish sauna, a Russian and a Turkish bath, a hot tub with cold water, hydromassage, an ice maker, hardware foot massage, heated benches for relaxation, a room relaxation, a shower of impressions, a gym, a phytobar, an open-air salt cave, four types of baths, floating, SPA procedures.
The next most famous complex «Isloch-Park», here you can share the gamut of pleasant emotions with your beloved one by ordering spa treatments for two people. A romantic adventure into the world of magical rituals of beauty, delicate aromas and complete pacification will be an unforgettable gift for your half, because this intriguing ritual will take place simultaneously for both partners. You can choose the following procedures for couples: relaxing massage for two; SPA ritual «Pleasure flower»; steam stone therapy.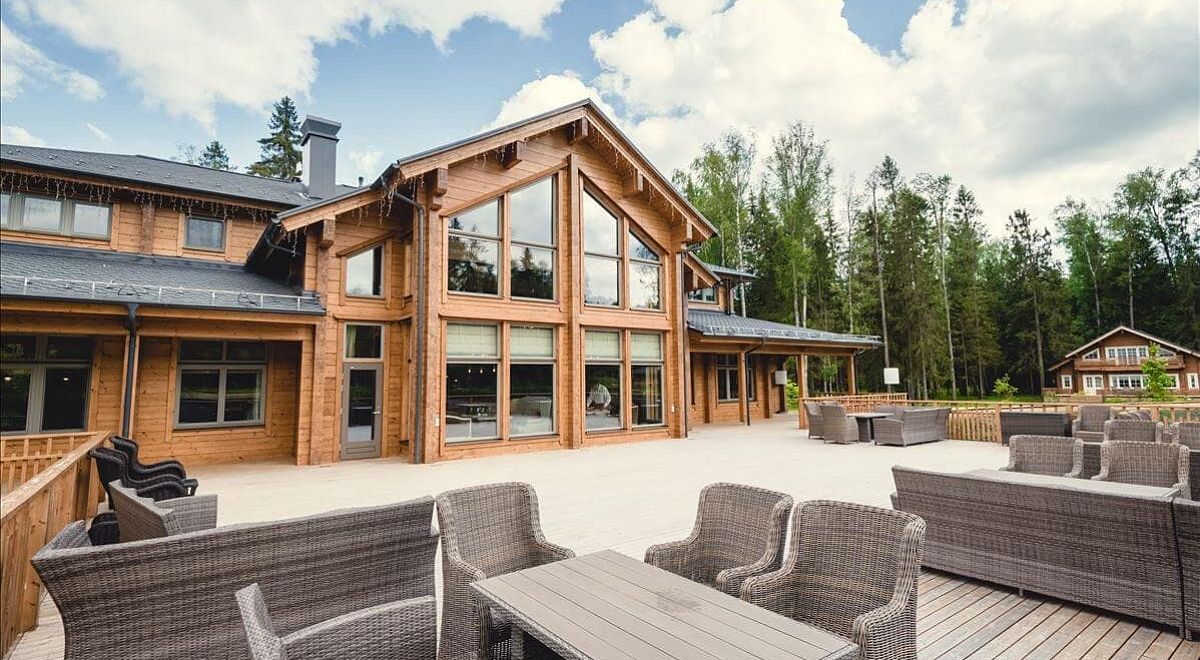 Hotels in the countryside
Recreation center «Syabry» has everything you need for an excellent week-long vacation. The complex offers a SPA where you can: relax in a water-thermal zone, a salt cave and a cryochamber, play tennis and football, fish and dine in one of the restaurants of the complex. Accommodation is offered in luxury cottages and semi-luxury. Breakfast is included in the price.
Country complex «Shishki» This institution was highly appreciated even by the most fastidious vacationers. The highlight of the complex is in its harmony between the natural and the new: the massive center is located on the shore of a large lake, there is almost no one and nothing in the area. But on the territory there is a restaurant of national cuisine, a hotel, a VIP-house and a bathhouse. This list is far from complete, as new establishments open every year that deserve special attention.
Countryside sanatoriums
There are more than a hundred health resort organizations in Belarus, but it is quite difficult to navigate the variety of Belarusian health resorts, because each health resort is unique in its own way. Some of the health resorts have large modern swimming pools and well-developed infrastructure, while others stand out with rich natural resources. Choosing the best sanatorium is not only a guarantee of a wonderful rest, but also a guarantee that you can improve your health, and your expectations will be met. To help vacationers make the right choice, all Belarusian health resorts were analyzed and a rating of the best Belarusian health resorts was compiled for the most popular requests. This list includes sanatoriums, Alesya, Naroch, Krinitsa, sanatorium named after Lenin, Ruzhanskiy, Alfa-Radon Sanatorium (Grodno region), Borovoe (Vitebsk region), Zheleznodorozhnik (Vitebsk region), Nadzeya (Brest region), Plissa (Vitebsk region), Priozerny, Solnechny, Youth.
The best places in Belarus for a country vacation
The estate «Belovezhskaya Svetlitsa» is located in the southwestern part of Belovezhskaya Pushcha: just a couple of kilometers from the house there are feeders for bison, wild boars, roe deer and deer. Plus, there is a lake nearby, in general, almost a paradise for lovers of natural beauty. The interior of the house is no less good. The estate is authentic and thought out to the smallest detail: wooden furniture, handbrakes, old household items. From entertainment there is hunting, fishing, excursions along Belovezhskaya Pushcha together with an experienced guide are provided.
Manor «Babiy Moh» ‒ is located near the ring road, around it is a continuous forest, where it is quiet and peaceful all the time. Another advantage: the house is located at the foot of the Krasnoslobodsky reservoir. There is one house in the recreation center, which can accommodate 12 people. There is a fully equipped kitchen, steam room and bicycle rental. For those who like a more peaceful holiday, fishing is provided. By the way, prey can be prepared right in the yard of the estate.
Manor «Akolitsa» ‒ there are six rooms of different design. Upon check-in, the owners of the house offer the guest to choose the one he likes, and his eyes run up, because he wants to live in all at once: the rooms are beautiful, with handmade items, pretty paintings on the walls and interesting furniture. There is a tennis hall. While parents are playing sports, their child can have fun in the children's room. There is also a bathhouse, after which you can relax in the street gazebo. Another nice thing: breakfast is included in the price.
Complex «Pigasovo» ‒ there are two houses: «White House» with a swimming pool and a sauna and a 2-level «House by the pond». There is also, as the owners say, «Steklyashka» ‒ a glazed heated gazebo where you can organize parties and banquets. Near the house is a pond where you can swim and fish, a forest that is great for walking and cycling, which can also be done in the homestead.
---
Photo: sun9-22.userapi.com, static.tildacdn.com