Bagels, trdelniks and octopuses. Food parking opened in the center of Minsk
In the cultural and business quarter "K21" near the metro station "Molodezhnaya" opened a food parking with a fair of designer gifts. Food trucks serve fresh pastries and seafood.
The street food and handicraft area is located at the very beginning of K21, next to the subway exit and Big Ben. It is divided into two parts - covered and open. There are food trucks and a Christmas tree bazaar outdoors, while inside there is a food court and a craft souvenir fair. The space is decorated festively - in the New Year theme.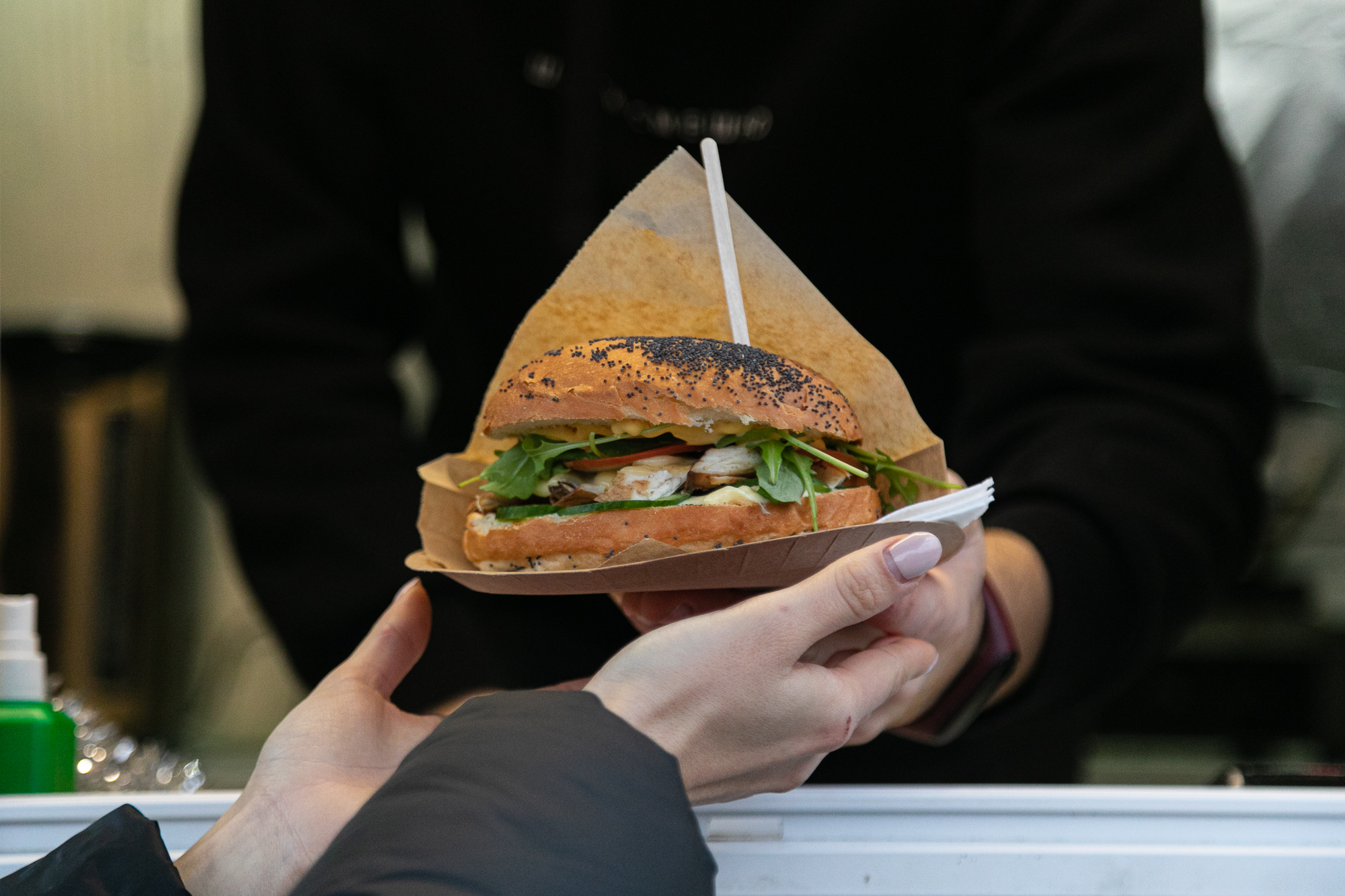 Among the first food trucks is a bakery with Czech pastries. Hot trdelniks cost from 3 rubles, and cinnamon, coconut, chocolate or peanuts are used as a powder. There are also fillings ranging from apple to bacon and olives. Cocoa, cappuccino, tea and warming fruit drinks are poured from drinks - an average of 3 rubles.
There is a bagel point in the neighborhood. The sweet one is stuffed for 7 rubles with banana, caramel and curd cheese, and the classic one with salmon is 2 rubles more expensive. The menu also includes "bagels" with chicken, bacon and eggs.
One of the food trucks is dedicated to seafood: octopus tentacles are prepared for 15 rubles, grilled tuna or tiger prawns - for 12, and squid - for 8. Thai soup "Tom Yam" is also poured at 8 rubles per bowl.
The indoor food court, in particular, features Georgian and Mexican cuisines. From the interesting: pumpkin soup - 3 rubles, quesadilla with chicken - 7. Cocoa with marshmallows and mulled wine are brewed on the spot.
The fair contains New Year's toys, bags, candles and decorations. They also offer handmade gingerbread cookies, hemp flour cookies and cream honey.
The food park and gift fair are open daily from 12:00 to 21:00. Closer to the holidays, New Year's festivities with Santa Claus will be held here.
Quarter "K21" is located on Kalvariyskaya street, 21 opposite the "Crown". In Soviet times, there was a furniture factory here, but in the 90s the buildings fell into disrepair. The site was bought at market prices by Belrekonstruktsiya, which restored the post-war buildings and is now turning them into a trendy neighborhood with offices, shops, restaurants and a food court. The Kalvariyskaya tower also returned to life, on which a mechanical clock and a weather vane appeared.