Top 10 restaurants where to celebrate the New Year in Minsk
New Year is about to enter the doors of every home, and you still do not know where to celebrate? Don't worry, we have several fallback options. We will tell you which restaurants host parties and where it would be better to celebrate the New Year.
Ember Restaurant
Traditionally, New Year is a family holiday, and many people prefer to celebrate it at home with their favorite salads and songs about "5 minutes". But what if we move away from tradition and try something new. Not to stand all day in the kitchen, slicing salads for several days, but to relax, take on the most beautiful outfit and celebrate in the establishment. Ember Restaurant offers a chic setting for New Year's Eve.
New Year's party include:
• A perfect holiday in a restaurant;
• New Year's menu from the chef Randy Miharj;
• Live-stations from chefs;
• Live music with the performance of your favorite songs;
• Photo zone for those who like to capture the best moments of the holiday;
• Professional photographer;
• Children's room;
• Ideal conditions for viewing fireworks.
All of the above items are available for everyone for 400 BYN per person.
Moreover, the Restaurant offers to celebrate the New Year with further accommodation at the DoubleTree by Hilton Minsk hotel in a King room. The price of accommodation includes a late breakfast at the Ember restaurant for two.
The cost of living in the hotel will be 850 BYN for two per 1 night and 1000 BYN for two for 2 nights.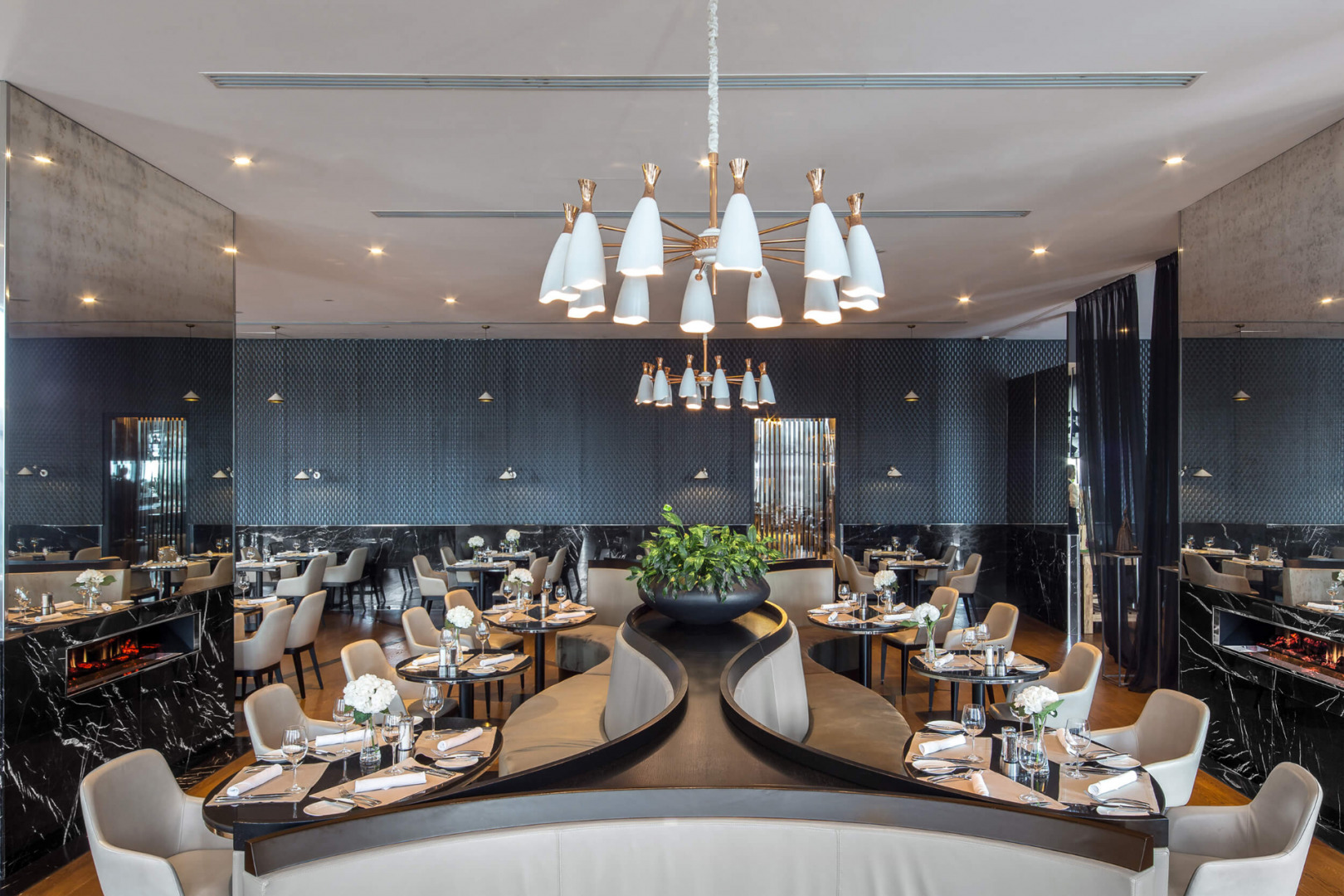 Lebyazhy Restaurant
New Year in Lebyazhy is:
• Special guests;
• Bright show program with the best artists;
• Author's cuisine from the chef;
• Presents;
• Interactive with guests;
• DJ.
The chefs took care of providing the Christmas menu in advance, so now in the restaurant you can try Olivier with carrot caviar, Kamchatka crab with beetroot mousse, turkey drumstick with persimmon chutney, lamb rack with cherry demiglas, wrong apple strudel and other signature dishes.
In the main hall of the restaurant you will be greeted by the solemn features of a chandelier and a map of Belarus. The interior is softened by the grandeur of the armchairs, wood fittings and lighting. You will definitely remember the New Year if you spend it in the right place. Table reservations are made in advance.
Fabriq Restaurant
As you celebrate the New Year - so you will spend it! Meet it properly!
Fabriq restaurant invites guests to the most unforgettable party of the year - New Year's Eve on December 31 at 22:00.
The event will be hosted by Ilya Kononov and DJ Pavel Van Bora will help him. But the surprises do not end there, because Shura will be a special guest on New Year's Eve. Carnival night has never been so much fun, make sure to book a table.
The New Year's menu includes dishes of author's cuisine - olivie with pastrates, brioche with pâté and persimmon, croquettes with stewed veal and parmesan, wild sea bass in aqua pazza sauce, etc.
Pre-order is open by phone +375445635555.
Wood & Fire Restaurant
2021 will be held under the auspices of the bull.
The bull is a noble animal, and you need to give from him actions that are suitable for his nature: strong-willed, decisive, noble and wise. Hurry up to book a table and meet this New Year at Wood & Fire.
Game dishes have been added to the restaurant menu, because the festive table would definitely not be complete without them. You can taste aged venison carpaccio, reindeer meat with sun-dried tomatoes and porcini mushrooms, King reindeer cutlet with honey agarics and other signature cuisine.
Celebrate New Year at Wood & Fire restaurant. Call for details+37529 618-83-55.
Grand Cafe Restaurant
We invite you to celebrate the New Year at the luxurious Grand Cafe Dr. Zhivago in the very center of the capital with a gorgeous panorama of the historic city center. New Year's fireworks, which are visible from the windows, modern Russian cuisine and the clinking of glasses filled with Louis Roederer champagne are waiting for you.
The New Year's table will include dishes such as salad with tiger prawns, gravlax marinated salmon with mustard sauce, chicken roll with mashed potatoes and wild berries, sea bass in the sleeve with kumquat and herbs, etc.
The restaurant accepts pre-orders by phone +375 44 703-11-11.
Restaurant Café de Paris
A festive mood reigns not only outside the window, but also in the Café de Paris. Come enjoy the sparkling bubbles of sparkling wine in a glass on the most fabulous night of the year.
We are sure that the New Year's dinner will bring together all the closest ones and relatives at one table. And so that you don't have to spend the whole evening in the kitchen, we suggest celebrating this holiday at Café de Paris.
The festive menu includes such dishes as:
• salad with salmon, red caviar, winter vegetables and raifo cream;
• Olivier with crab;
• Christmas chicken stuffed with porcini mushrooms and truffles;
• pancakes with caviar and barblanc sauce;
• Mathieu herring under a fur coat of winter vegetables;
• lemon tart, etc.
The restaurant accepts pre-orders by phone +37529 129-11-11.
Leone Bar
Leone Bar invites you to have fun at a noisy party and shine like the brightest stars in the New Year.
The event starts at 22:00. The entrance is 250 rubles per person.
In the evening program:
• live music;
• favorite songs performed by Vladimir Kozlov;
• Professional photographer;
• Interactives with bartenders;
• Confetti show;
• New Year's predictions;
• Dj Sanya milk.
The holiday menu includes:
• Snacks;
• Salad (optional);
• Hot dish (optional);
• Compliment from the chef;
• 2 glasses of wine and any cocktail from the menu.
Bar: Dot XX1
The best place to celebrate the New Year and enjoy a festive bird's eye view of fireworks on the 21st floor of the DoubleTree by Hilton Minsk hotel.
Waiting for you:
• Festive menu from Chef Randy Miharj;
• Cover band Malashkevich band;
• Dj Belner;
• Photo zone and guest photographer;
• Signature cocktails and a sea of ​​champagne.
The New Year's menu includes the following dishes:
• Salmon caviar;
• Fresh oysters;
• Assorted seafood on ice;
• Tapas with seafood;
• Grilled Lobster;
• Duck confit;
• Fruit plate and many others.
Madman Bar
The doors of Madmen, inspired by 60s America, open before you. It combines elegant style with an adventurous spirit. The bar offers to celebrate the New Year 2021, but without the wires of 2020. What does it mean? The party starts right AFTER MIDNIGHT!
The program was not without pleasant surprises, good music and every minute madness. The New Year will take place in Studio54 style after midnight and will only end on Sunday.
Advance booking is available by phone +37529 687-99-99.
Blondes and Brunettes Bar
On December 31 at 21:00 Blondes and Brunettes Bar invites guests to celebrate New Year 2021. The cost of the party is 250 BYN per person.
The show program includes:
• Charismatic Artyom Gogol;
• Maiden show;
• Special guest;
• Dj Sadovski;
• Santa Claus;
• Presents.
The bar accepts pre-orders by phone +375 44 597-11-11.
---
Photo: travelata-a.akamaihd.net, mir-s3-cdn-cf.behance.net, img3.foto.by, womanjour.ru